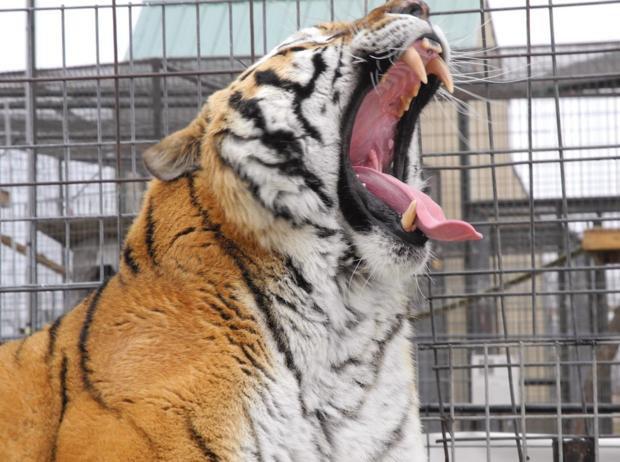 BIG CAT HEAVEN
Surprisingly, it's legal for individuals to own tigers and other big cats. (The United States Humane Society estimates that there are more tigers in the U.S. than in the wild.) Unsurprisingly, most people aren't up to caring for the dangerous animals; abuse and neglect are rampant.
Turpentine Creek was founded by the Jackson family in 1991 to rescue 42 cats owned by a breeder and black market dealer. Soon they were taking in lions and tigers (and, yes, bears), as well as bobcats, cougars, leopards and ligers, from around the country. Today, the compound has 103 cats, mostly tigers. Visitors can stay on-site in "safari lodging."
When the cats mature, "people get scared," said curator Emily McCormack over the roar of her vehicle's engine as we toured the sprawling site. After 16 years in her job, she has lots of stories (many horrifying) to share about the rescued animals: "Every time we think we've seen it all, it's something different. And the worst part is, it's all caused by people. We give (the rescues) the best place we can."
The cats have "night houses" where they can relax and big enclosures where they can wander. Turpentine Creek has a noted internship program, and the interns keep the cats clean and fed. Watching them, their unique personalities are immediately apparent.
"My favorite part of this job," says McCormack, "is bringing those cats in, seeing what they've gone through, and watching them gain trust in people again, and know that they're going to be safe."
source