Before the Internet, cats ruled art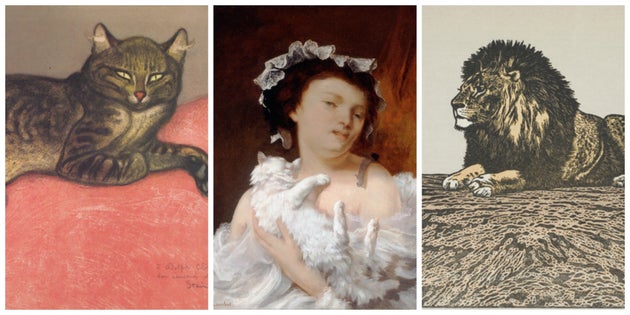 HPMG
Cats prance from room to room, expressing their whims and fears spontaneously. They scratch, they bellow, and they quietly watch the world go by from a fur-covered windowsill. They're certainly more intrinsically motivated than their canine counterparts — you won't find a cat that puts its owner's social needs above its own.

All of which is to say, cats and artists have a lot in common.
So it comes as no surprise that lions and tiny tigresses have served as the subjects of art dating back to ancient Egypt, through Gustave Courbet's soft-whirling oil paintings, and contemporary woodblock prints.
An upcoming exhibit at the
Worcester Art Museum
, dubbed "Meow," will provide a historical survey of these feline portraits, including a woodcut created in 1912 depicting a gardener and her curious cat onlooker, and a 1975 lithograph of a mysteriously winged Siamese. The museum's director of audience engagement, Adam Rozan, wrote in a press release, "Cats have given rise to a plethora of creative online projects, videos, and memes that mix humor and artistry. While the Internet has allowed for viral consumption of this content, this phenomenon isn't new."
While humor doesn't factor into most of the images on display, many artists did choose to portray cats' expressiveness in their work. A 20th-century lithograph called "Girl with Cat and Tiles" depicts a dainty blonde holding a squirming, ready-to-pounce tabby. For this and other crazy cat pics, see below.
"
Meow: A Cat-Inspired Exhibition
" — including an interactive installation featuring live cats, a community art show and special art classes — will be on view at Worcester Art Museum in Massachusetts from May 21 to Sept. 4, 2016.
Helen Hyde

Will Barnet

Gustave Courbet

Robert A. Nelson

Theophile Alexandre Steinlen

Cornelis de Visscher

Leonard Tsuguharu Foujita

Orovida Camille Pissarro

Yoshida, Toshi

Worcester Art Museum

Yoshida, Toshi