BY Alfred Ng
NEW YORK DAILY NEWS
Wednesday, February 3, 2016
The United States's only wild jaguar has sneakily roamed around forests and remained elusive and out-of-sight — until now.

Rare footage showing "El Jefe," the only known wild jaguar in the country, was released on Wednesday for the first time, showing the big cat exploring his natural habitat.

The 41-second clip shows the spotted jaguar stalking around at night, walking through a river and exploring a forest in the Santa Rita Mountains near Tucson, Ariz.

While the never-before-seen video was less than a minute long, it took three years of intense tracking to compile the footage from motion-capture cameras around the wooded area, Chris Bugbee, a biologist with Conservation CATalyst said in a statement.

"Studying these elusive cats anywhere is extremely difficult, but following the only known individual in the U.S. is especially challenging," he said.

The group even relied on a specially trained dog to sniff out the elusive endangered animal's feces.
While the jaguar has been captured in photos more than 100 times in the last three years, this is the first time he's been seen in motion on video.

Research showed that "El Jefe" — Spanish for "The Boss" — is an adult male jaguar in prime condition, and currently the only known one in the United States after "Macho B" was euthanized for a trapping injury in 2009.

Wild jaguars used to live around the American Southwest, near the Grand Canyon, southern California and even near Louisiana more than 150 years ago. Now the United States has been reduced to just one jaguar, after years of government population control programs and habitat loss.

The big cats — only smaller than tigers and lions — primarily wander into the United States from Mexico.

Researchers can only hope to find a second, female jaguar to accompany El Jefe and increase the endangered species' population.

The last verified female jaguar in the U.S. was killed by a hunter in 1963 at Arizona's Mogollon Rim.
But a Canadian coal mining company could ruin El Jefe's home forever, with plans to build a site right through the jaguar's territory, driving the big cat out.

"The Santa Rita Mountains are critically important to jaguar recovery in this country, and they must be protected," Bugbee said.

source

From National Geographic


El Jefe, the only wild

jaguar

known in the United States, has made his film debut.

He's no stranger to the media limelight, though: Trail cameras have photographed the male more than a hundred times over the past three years, and schoolchildren named him El Jefe—which means "the boss" in Spanish—during a nationwide contest in 2015. (See "'

Indomitable' Jaguars May Have Lessons in Survival for Us

.")

To catch the solitary cat on camera, conservationists used dogs to sniff out jaguar scat, and then installed cameras in these strategic spots.


A U.S. jaguar is rare indeed. As late as the 19th century, the big cats frequently roamed from northern Argentina into Arizona, New Mexico, and Texas. But ranchers and farmers settling the American West pushed the world's third-largest cat out of its territory.

"He's typical of the extreme toehold that this species maintains in the U.S.," says

Luke Hunter

, president and chief conservation officer for Panthera, a global wild-cat conservation organization.

"Since 1996 there has been evidence of a jaguar in New Mexico or Arizona every year. But I think it has been a total of four or five individuals and they've all been adult males."


"Great Explorers"


El Jefe and his male predecessors seem to have dispersed from the closest breeding population which is located in Sonora,

Mexico

, more than 125 miles (200 kilometers) to the south.

"Probably these individuals left that breeding population in Sonora and struck out on their own as young male jaguars do," Hunter explains. "Their mothers kick them out of their birth home range, and these young male cats are great explorers." (

Learn more about National Geographic's Big Cats Initiative

.)

Thanks to his epic journey, El Jefe is the boss of 764,207 acres (309,263 hectares) of Arizona and New Mexico set aside by the U.S. Fish and Wildlife Service as critical jaguar habitat.
"He's managed to find what a male jaguar really wants—space and a good habitat with lots of prey like white-tailed deer," Hunters says.

"For a female cat to naturally colonize the United States again from that Sonora population would be really difficult."
source
The Lonely Jaguar of the United States
Conservationists have released video of the only known jaguar living in the country.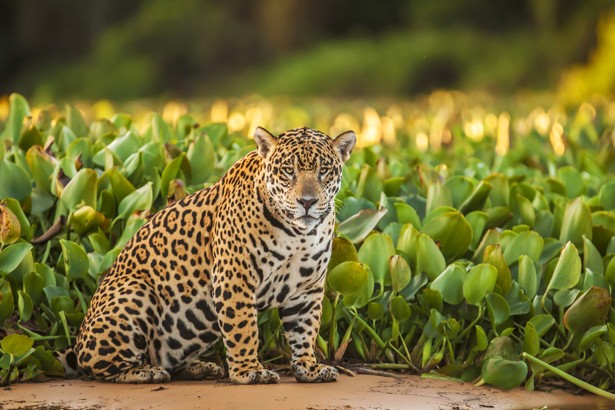 There are

about 15,000 jaguars

living in the wild today. They are solitary creatures, preferring to live and hunt alone. But the one living and hunting in the United States takes the word "loner" to another level: The jaguar, nicknamed "El Jefe," is the only known wild jaguar in the country.

El Jefe, which means "the boss" in Spanish, made his public debut Wednesday in video footage released by the Seattle-based Conservation CATalyst and the Tucson, Arizona-based Center for Biological Diversity. The brief clip shows the big cat roaming the grassy forest floor of the Santa Rita Mountains, outside Tucson, navigating rocky creeks, and just doing jaguar-y things:




Since 2013, El Jefe has been photographed by motion-detecting cameras more than 100 times. But jaguars are notoriously elusive creatures. The 41-second video posted Wednesday is the product of three years of tracking. Chris Bugbee, a biologist at Conservation CATalyst, said in a statement that researchers regularly tinkered with camera locations and even used a dog specially trained to sniff out wildlife feces to track down El Jefe.

Historically, jaguars are not uncommon in Arizona. Their range once extended north from Argentina to Central America and Mexico and up into south-central states and even California and Louisiana. But the big cats all but disappeared from the U.S. in the last century, mostly due to habitat loss and federal population-control programs intended to protect livestock. Will Rizzo described the bleak state of the jaguar in the U.S. in Smithsonian magazine in 2005:

In 1963, a hunter in Arizona's White Mountains shot a female, the last of her sex to be documented in the United States. Two years later, the last legally killed jaguar, a male, was taken by a deer hunter in the Patagonia Mountains, south of Tucson.
In 1969, Arizona outlawed most jaguar hunting, but with no females known to be at large, there was little hope the population could rebound. During the next 25 years, only two jaguars were documented in the United States, both killed: a large male shot in 1971 near the Santa Cruz River by two teenage duck hunters, and another male cornered by hounds in the Dos Cabezas Mountains in 1986.

The conservation centers say a proposed copper mine by a Canadian company in the middle of the Santa Rita Mountains threatens to cleave thousands of acres from the jaguar's natural territory.

Biologists says El Jefe is the only verified jaguar living in the U.S. since Macho B, who was euthanized in 2009 following injuries sustained when he was captured and collared with a GPS tracker. The Arizona wildlife officials involved in the capture said it was accidental, but it was later revealed that one biologist had lured Macho B by placing feces from a captive female jaguar in heat along a trail the animal was known to frequent. (The Arizona Republic's Dennis Wagner has a fascinating and comprehensive account of the capture and cover-up here.)

These days, the most jaguar conservationists can do—aside from hoping no one shoots and kills El Jefe—is wait for other jaguars, particularly female ones, to cross over the border from Mexico. Fingers crossed that happens in time for Valentine's Day.


source